GOOD NEWS!
New this year, the Nouvelle Aquitaine region is putting in place 3 bus lines from or to Bergerac airport!
Below are the bus routes:
Bergerac – Périgueux : Line 3 : Bergerac/Périgueux
Bergerac – Eymet – Marmande : Line 4 : Bergerac/Eymet/Marmande
Bergerac – Issigeac – Villeneuve-sur-Lot : Line 4A : Bergerac/Issigeac/Villeneuve-sur-Lot
Each of these lines passes through the SNCF station in Bergerac.
To take advantage of these lines, you must book before 5pm the day before your trip.
The journey costs only 2€30
RESERVATIONS BY PHONE: 0970 870 870 (not surcharged)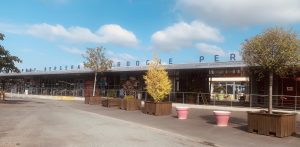 #bus #airport #station #bergerac